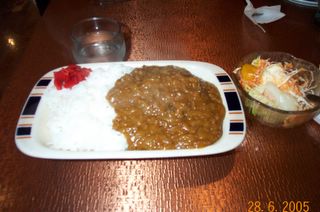 Poru Curry with a hamburger hidden inside
The hamburger curry is my favorite meal at Poru, although all the food here is my favorite meal. Anyway, the curry flavor is a special homemade secret recipe. It's wonderful!
Each meal comes with an "orange sauce" salad, which by the way has a homemade dressing to go with it. This dressing looks orange, thus the salad is called an "orange salad" which seemed odd to me at first, but it makes sense. We asked grandma (the inventor of the secret orange sauce) what exactly is in the dressing and it turns out to contain over 7 ingredients! It's not one you can just whip up, but it's the best salad dressing I've ever tasted.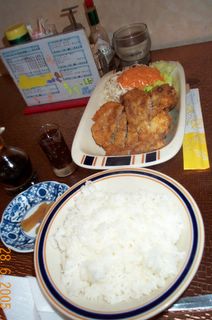 Poru Ranch
Another meal I really enjoy at Poru is the Ranch Special which involves a variety of Katsu and deep fried foods. It's a little more fatty, but taste equally as splendid as all of the other food.
The third main course is speghetti whih you can get in a deep bowl with red sauce or the curry sauce you see above. Both taste great on the speghetti and I recommend the curry sauce, as Poru is the only place to find the mouth tantilizing flavor of thise secret recipe.