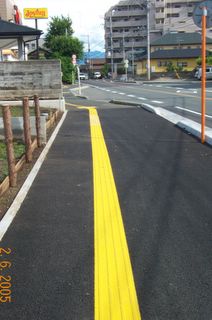 We're not in Kansas anymore!
In Japan, where there is a large enough section for a bike route, the sidewalk is divide by a yellow line. This is to make visible the narrow side, designated for bikes, and the large side which is for pedestrians. However, as the width of the patch varies greatly depending on the available locations available area, the rules are often ignored. People walk where ever as to bikes ride as bike will often do. With so many people it only becomes a matter of dodging and keeping on your toes.
Mostly only the major streets get a yellow brick road. Most streets in the urban areas of Japan don't even have sidewalks. A good example of this can be seen bellow on one of the many streets I take my buddy "S" for a walk down.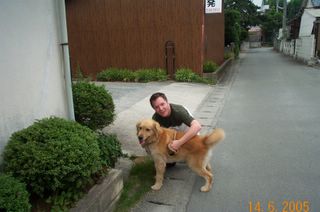 No sidewalks