Let's get down to the answers. In response to the questions and topics from Critical Theory. (English 300), taught by Dr. Sexson.

Q: What was your "blanky" text? The text that gives you most comfort.

Well, originally it would be the "Goldbug" of the golden book series and anything else that Richard Scarry wrote. Since I grew up to become an English lit. major and an artist, I would say that Richard Scarry's picture books really shaped the way my mind visualized. Along with his books I read "The Berenstain Bears" books by Stan and Jan Berenstain, and of course one of my favorite authors, Dr. Seuss. I still haven't been able to purge "One Fish Two Fish Red Fish Blue Fish" from my memory banks, nor countless others. Now a days I think that the books: "Lorax", "The Sneetches and Other Stories", "Oh the Places You'll Go!", and "The Cat in the Hat" are all vital for young children.

Later on I started playing LEGOS, and ultimately would get comforted by the fact that I could create my own arts, spaceships, underwater vehicles, and my own worlds. It was comforting, having the power to create, and being the creator. Even if, sometimes, the LEGO people's little yellow clamp hands, or bulb heads didn't fit right. Still fun stuff! Now adays you have Harry Potter and Spiderman LEGOS. And secretly, I sometimes buy a package of STAR WARS LEGOS, but don't tell anyone.

Q: What was the first work you encountered that changed your perception and the way that you look at the world?

As a matter of fact there are many works that have changed the way I think or view things, but looking back, I can't single out any most important piece of work. Rather, it was a combination of many different pieces of work over a span of time that has affected me. Of these things, the ones that I place most value on are:


Jewel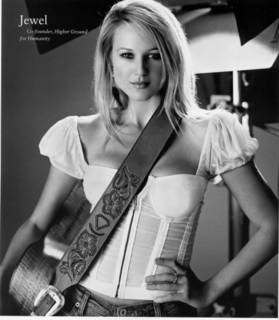 JEWEL
The Songs and poetic lyrics sung by JEWEL. Her music always fills me with a sense of spiritual faith and conviction that I oddly don't get from listening to Christian music. Jewel knows how to use the imagery of song, and she understands the power of word. This intelligence paired with her talent to utilize and control different forms of sound allow her to jump through musical genres. This playfulness is reflected in her songs, and I get a sense that this artist isn't restricted by her medium, but is free. The power and control over her voice lends her the ability to sing convincingly to my spirit and reaches me on a much deeper level. Whether it is country, pop, spiritual, or opera, she has sung it all. And to think that she is a classically trained yodeler. Jewel's music reminded me of how important my faith is, and turned me back towards God. This ultimately changed my life, and made my faith even greater than it already was.

"We are God's hands, we are God's eyes, we are reflections of God. We are Reflections of HIM." From the song titled HANDS, by JEWEL.

Harvey


HARVEY
Then there is the movie that has influenced me. It so happens to be my all time favorite film and it also happens to be an Academy Award winning film, and a Pulitzer Prize winning play. It's "HARVEY" by Mary Chase. The 1950's movie is what strongly changed my perspective of the world, rather than the play. Even thought the play is good, the movie was the perfection of the story of HARVEY. Even the original stage actors reprised their rolls in the film. James Stewart, notably one of America's greatest actors, plays Elwood P. Dowd. A wealthy man plagued by somewhat of a Cassandra complex, as nobody believes him when he introduces them to his invisible 8ft tall talking rabbit named Harvey. In fact, Elwood who is consider part of high society begins to become shunned, but the humor isn't in the mischievous antics of the imaginary bunny, but rather in the reaction to Elwood and Harvey by the unique cast of characters. Most notably that of Elwood's sister Vita Louise, who is downright distraught by the fact that her brother may possibly be insane.

This movie made me overwhelmed with a sense of pleasantness and warm hearted fun. I started emulating the persona of Elwood P. Dowd in high school, when I finally gave up trying to fit in and find a click, I decided that I would just become as pleasant as Elwood P. Dowd, and accept everyone for who they are, and then introduce them to my imaginairy pet dragon. Just kidding, about the dragon part that is. This movie really made me realize that even eccentric people could gain acceptance, and everyone could fit in as long as you opened your hearts to them.

"I'd just helped Ed Hickey into a taxi. Ed had been mixing his drinks, and I felt he needed conveying. I started to walk down the street when I heard a voice saying: 'Good evening, Mr. Dowd'. I turned, and there was this big white rabbit leaning against a lamp-post. Well, I thought nothing of that! Because when you've lived in a town as long as I've lived in this one, you get used to the fact that everybody knows your name. "
---Elwood P. Dowd (James Stewart)

And finally, but not lastly. You heard me -is the HOLY BIBLE. It has shaped my mind from the day I was born. In fact, biblical traditions and concepts are so interwoven in our culture, that I wasn't fully aware of how much so until I went abroad and lived in Japan for a year. Gaining another cultures perspective, and looking back at my own opened my eyes to a lot of things. It was a reflection that allowed me to see the worl differently. So in essence, it was the JOURNEY that also changed the way I looked at life. Even though it is not a text, it was my own personal Odyssey. Also, I met my fiance in Japan. So my life has really been that of a fairy tail really. The prince ventures off across the sea, to an unkown land. Where I fall in love with a native princess (a type of forbiden love), but overcome all odds and live happily ever after. However, the end is really just the beginning. The moral of the story is that the journey doesn't ever truly end.