Dr. Sexson asked us,
"What is the text, piece of work, that tugged at your heart strings and made you weep?"
Well, before you all indulge with delight at my more sensitive sensabilities, and mock me like a crazy horde of cry-baby haters, I thought I should share something with you all.
Dr. Sexson made me do it! It's all his fault!
Now that that is out of the way, I feel more enthused to tell you all about my sniffling coughles, and my blinkedy tears. So what exactly is that most wonderous work that was able to bring me to overwhelming emotions of sadness?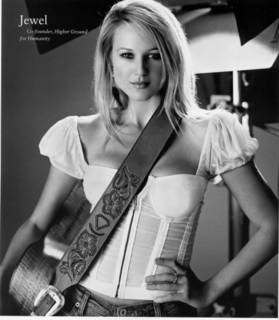 JEWEL
Once again, her music haunts my soul. Perhaps it's her soulful voice and mezmorizing melodies, but nothing really matters... her music shakes me, and touches even uplifts my spirit. I guess you could call it a soul tickle, but the beauty of this artificer criples my senses, retarding my reality, and reinventing my notion of what truth and beauty is. Specifically her songs
Hands, Absence of Fear, Deep Water, Break Me, Cleveland, Innocence Maintained,
and
Face of Love
are the songs which can get me to drop a tear. Plop plop a rainy mess of manhood I am!
Just your friendly reminder: It's all Dr. Sexson's fault! He made me do it.
As for litterature, what book of words conglomerated into a sadness for me? One text in which brought your's truly to tears would be "Great Expectations", by Charles Dickens. I don't really recall why It sadened me so much. Maybe is was because I related to Pip at the time, a lonely fellow trying to be better than what he came from and kinder too, but all the world seems to go against him and tries to corrupt him. Even Estella was a sad character. She was the percisioned instrument in breaking hearts, and no matter how this innocent boy tried to show his love, she would warp and twist it into sorrow, like an automatic machine. In the end, I knew that they did love each other, but it was a bitter-sweat love, and niether of them could live with the after taste. Really, it was a tragic tale and I couldn't help but pitty these characters.
When it comes to movies, there is one film that touches me beyond all others. I think I may have watched it a sum of 12 times, and considering it is over 3 hours long, that's a lot of wasted hours. But it really puts in perspective the romantism of life, and the importance of simply living, and having had the experience. It always seems to fill me with a curiosity and respect for living and reminds me to take the time and notice the world around me, and learn to love people better. It is the film
Meet Joe Black
. It takes you on a journey, and follows one man's story, and it ends with a triumphant explosion of emotion and fireworks. Suprisingly the film is about death, but it reminds you of the beauty of life and it leaves you with an impression so powerful, that you gulp back your emotions, not knowing quite why the movie touched you so deeply. But regardless, the emotions overcame me, and I cried... like a big sissy. Yeah, chick flick... boy, what am I... a wuss? Anyway, my roomate says that the video game Final Fantasy VII made him cry. In case you were all curious about that, but probably not. Just thought I'd share.
Braveheart
was another film that made me cry. Perseverance in the face of tyranny, someone who stood up for what's right, against all odds. His lasting message... it was a story worth shedding at least one tear for. And don't think me a loser with no life when you find out that I've watched Braveheart entirely through a total of 27 times. Speaking of wasted hours, did I mention I am an avid movie buff and have no life? Anyway, I wore out my initial VHS tape so that the 2 video set was ruined. The first tape snapped, and the second one was so thinly stretched that no amount of cracking could bring back the picture quality. Eventually I re-purchase Braveheart in glorious digital DVD clarity!
"Every man dies, not every man really lives."
--William Wallace
Now you know the rest of the story.